Awesome—just one more step.
You're almost ready to enter the mileage master dojo. But wait! There's one more travel resource you might like.
Buy the Travel Ninja guide together with Frequent Flyer Master, and you'll save 25% while gaining even more travel knowledge.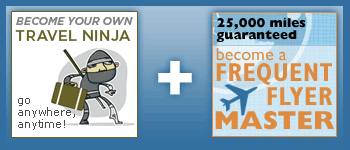 Travel Ninja focuses on more advanced travel topics, including:
Shortcuts to Airline Elite Status
Round-the-World Itineraries and Booking Strategies
The Basics of Becoming Location Independent
As part of the combined purchase, you'll also receive:
The Additional "Travel Hacking" Spreadsheet that I use to plan and record my own trips everywhere
The black-hat secret to getting into any airline lounge in the world for free.
When purchased separately, Frequent Flyer Master + Travel Ninja are normally priced at $108. Your total price when purchasing them together is just $79—no shipping, sales tax, or continuity charges.
Note: This is a one-time offer for a $29 savings.