What People Say
My boyfriend and I used your air miles strategy to make over 120,000 points in six months. We both flew to Costa Rica for free in first class – lived it up in the "Admiral's Lounge" – then he flew himself and his brother to Alaska. Woo hoo! -Bonnie Caton
I received more than 55,000 miles in the first month. Amazing. -James Lathe

We are taking our family on a world-wide adventure next fall. Your site and guides have provided a lot of valuable information for us. -Josie Villa-Singleton

Thanks for putting the 70+ hours into creating such an excellent product! It's high-quality, saves me a lot of research and will help me plan for the future. -Josh Galban
I really like the fact that the advice is practical things *you can actually do*. -Richard Howes
If you want to succeed in working for yourself, tune out all the egomaniacs and get yourself a copy of Chris's guides instead. -Brooke Thomas
How to Go Anywhere in the World for Nearly Free Using Frequent Flyer Miles*
The revolution to democratize travel will help you:
Earn up to 200,000 Frequent Flyer miles a year without flying
Use miles to book free travel anywhere in the world
Repeat.
Special Bonus: One Free Plane Ticket, Guaranteed.
Go over here if you're ready, or keep reading to learn more.
The Travel Revolution: How to Visit 100+ Countries and Counting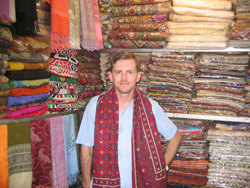 Thanks for checking out the Frequent Flyer Master project. If we haven't met before, my name is Chris, and I'm on a personal quest to visit every country in the world. So far I've been to 141 180—now almost done! On average, I visit 20 new countries a year, in addition to a lot of places I keep going back to year after year.
Everyone always asks, "How much does it cost?" Well, I'll tell you.
To be fair, I do spend a decent portion of my income on travel. It's something that I've deliberately chosen to value, and I have no regrets about choosing to invest in seeing the whole world.
However, I also have a not-so-secret method of arranging about half of my flights around the world: I use a war chest of Frequent Flyer Miles. A lot of them, in fact, on eight different airlines and all three airline alliances.
Between earning and redeeming, over the past year I've been through well over half a million miles. My current balance is 676,583 miles in eight accounts – and if you'd like to see the detailed proof, watch this 7-minute video or check out the screenshots below (click to enlarge).
(Note that about 50% of these miles have been earned without flying and without credit cards. I travel a lot, but even if I didn't, I'd still earn a lot of miles.)
I have no shame when it comes to feeding my mileage addiction. I've carried $8,000 in one-dollar coins to the bank (long story, you'll learn more in the guide), gone to a hair-loss clinic for a free consultation that included 20,000 Delta SkyMiles, signed up for 13 credit cards just to get the mileage bonuses, and much more.
But Enough About Me... How Does this Help YOU?
Perhaps you're not as travel crazy as me. (OK, you're probably not.) But that's alright—even if you don't travel very often and don't want to get your head examined in exchange for free flights, I'm assuming you'd still like to head out of town once in a while.
If you're excited about travel as an adventure or lifestyle choice (like me), you can be as active in chasing down miles as I am and accumulate a big balance of 100,000 or more, probably in less than a year. If you DON'T travel that often or aren't interested in seeing the world, you can still earn enough miles to travel once or twice a year for free.
In fact, that's really the most important message: the opportunity to travel creates freedom.
When you can travel for nearly free, you have a lot more freedom than when you're stuck at home. Even if there's just one place in the world that you'd like to visit, travel hacking with Frequent Flyer miles can get you there within a year.
Also, it's not just about the one-time thing. After you earn a free ticket this year, I have no doubt you can do the same next year. If there's more than one person in your household, you can earn more than one ticket. So while Frequent Flyer Master is NOT a continuity program (you'll only pay once and there are no recurring charges), I fully expect you'll be able to benefit from it for years to come.
By the way, what IS Frequent Flyer Master? Without further ado, here it is.
Introducing Frequent Flyer Master: Your guide to an
overflowing mileage account that allows you to travel anywhere
This is our latest Unconventional Guide, and probably the last one I'll ever write by myself as I move on to new projects. I haven't held anything back—this guide contains literally everything I know about creative travel using Frequent Flyer Miles.
A Few of the Topics We'll Cover:
The Big Opportunities that can quickly add 15,000, 20,000, or 30,000 miles at one time
Redeeming Miles for High-Value Awards
Opportunities for Southwest, United, British Airways, American, and 8 other airlines
Goal-Setting and Mileage-Earning for the Travel Rewards that matter the most to YOU
Mileage Mall and Finance Bonuses to help you earn miles for things you already buy
The Cost of Free Flights (and how to limit it)
The Best First and Business Class Mileage Redemptions
What to Do when the Airline Says No
How to Get Help if You Don't Want to Do this Yourself
Mileage Optimization
How to bypass outsourced (and often unhelpful) airline customer support
Important Disclosure:
I don't think all airlines are evil, but when it comes to disputes between airlines and individual travelers, I usually fall on the side of the traveler. Therefore, some of the info may be "black-hat" or otherwise controversial. If you prefer paying the airlines full-price, you probably shouldn't get Frequent Flyer Master

.
Frequent Flyer Master includes the following resources:
A detailed, 40-page 60-page travel hacking manual written in several different countries and on more than a few airplanes.
After I wrote an exhaustive outline based on my own experiences, I asked for input from other expert travelers—from my site, from journalists, from the FlyerTalk forums, and heard even more stories, including these:
The story of Aaron, who earned 250,000 miles in one program without ever getting on a plane. (When he finally did, he flew First Class to Australia thanks to the miles.)
The story of Sean, who took his dad to Ireland and Scotland in Virgin Atlantic's Upper Class cabin thanks to a nice bonus from American Express Membership Rewards points
The story of Jamie, who redeemed so many coins from the U.S. mint (65,000) in exchange for miles that her bank asked her to schedule an appointment before making the next drop-off
I've added many of these stories (and accompanying tips) to the guide, so you'll benefit not only from my experience but also from other non-conformist world travelers.
A 20-minute audio download (will work on both PC and Mac computers) that covers evergreen strategies of mileage earning + redeeming
A 4-part report on Priceline Booking Strategies to help you book discount hotels to go with all the free flights you'll be taking
At least six free updates with additional travel hacking opportunities over the next six months. See below on why the updates are so important.
Why the Updates Are So Important
We offer an ongoing update series for all of our products. Art & Money, for example, now has an update series that is longer than the original product. For this project, however, the update series is even more important due to the rapidly-changing nature of the mileage industry. With these updates, I'll be focusing on late-breaking news and travel hacks you can use to get more miles and more perks, usually just by filling out a web form.
A few examples of recent travel hacks I've taken advantage of are listed below. It's hard to say exactly what the Frequent Flyer Master updates will include, but I'd expect them to be comparable to these recent opportunities:
Complimentary Elite Status on your choice of Star Alliance airlines (United, Air Canada, Lufthansa, Air New Zealand, etc.)
$40 Hilton Hotels credit (with seemingly no limit on multiple requests)
10,000 Delta SkyMiles or 10,000 Air Canada Aeroplan points bonus
A new 30,000 miles opportunity for British Airways
In short, Frequent Flyer Master is a great product, priced well below market value. I'm proud to have my name on it, and I know it will help a lot of people. To make it even more fun, though, I decided to create the best possible guarantee I could think of. Here's everything you need to know about the surprisingly low cost and the iron-clad guarantee.
Very Simple Pricing
I think you'll be happy with the price of this guide. At the time of publication, the average airfare in North America was $321. During the introductory launch period, I'm offering the complete Frequent Flyer Master guide for just $49. I expect to raise the price later (but it will still be far less than what it's worth).
If you're motivated, you can earn a lot more than the 25,000 miles I promise in the guarantee—earlier this year I referred several readers to more than 300,000 miles each. But even if you only earn 25,000 miles and only travel once in the next year, this $49 guide could pay for the whole trip. To get your own copy, keep reading to the "Yes! Let's Do this!" button below, or just click here if you've already decided.
The Amazing Guarantee

First of all, every one of my products is "rock-your-world" guaranteed. If you don't love something, you get your money back—simple as that. However, for this project, I wanted to take the guarantee a bit further. I thought about coming to your city and driving you to the airport myself, but then I realized that would be difficult to scale. Here's what I came up with instead:
Using the information in the guide, you'll earn at least 25,000 Frequent Flyer Miles, enough for one free plane ticket ($300+), within 90 days. If not, I am obligated to give you your money back—even if you love the guide.
See, it's very simple: I want my products to actually work. I honestly think you'll be able to rack up much more than 25,000 miles over time (I earned and redeemed more than 500,000 in 2009 alone), but 25,000 is a bar that I think everyone can reach without devoting a great deal of time. I don't know how to make it any simpler than that.
Questions and Answers:
What You Can Do With 25,000 Frequent Flyer Miles:

Free domestic ticket within the U.S. or Canada
Free domestic ticket within Europe, Asia, or Australia
Save the miles for something bigger
I only fly once or twice a year. Will this help?
Yes, it can pay for your entire trip. Also, if you ever want to travel more, the guide will help you scale up.
What if I live outside of North America?
The information works best for U.S. and Canadian residents. It's difficult to regularly accumulate large numbers of miles (100,000+) if you live out of the U.S. or Canada. However, international residents can still earn miles from about half of the strategies and tactics described in the guide, and the amazing guarantee still applies.
I've tried to use miles before and found it to be difficult. What do I do?
This is because the airlines sometimes make it difficult for travelers to actually use the miles they have earned. I hate this practice, but thankfully there are several ways around it. A significant portion of the materials is dedicated to helping you redeem your hard-earned miles for the trips you really want.
Which airline does Frequent Flyer Master work with?
All of them, but we focus mainly on U.S. carriers because they tend to have the most generous mileage programs.
What if I don't want to get credit cards?
You don't have to. Credit card signup bonuses is one way to rack up some serious mileage, but it's not the only way.
Are you serious about the guarantee?
YES—and by purchasing, you are committing to hold us to the guarantee. Use the product, get the miles, fly for free... or let me know and we'll buy it back from you. It's in our best interest to put you on a plane.
Ready to Join the Revolution?

P.S. From $7,000 Upper Class tickets to Tokyo (my cost: $140 in taxes) to free trips to Mongolia, I've put my miles to great use over the past few years. Let's take a look at a few things you can do with the substantial miles you'll be earning as a Frequent Flyer Master:
25,000 miles: 1 Domestic Ticket or 1 Upgrade
50,000 miles: 2 Domestic Tickets or 2 Upgrades or 1 Ticket to Europe
60,000 miles: 2 Tickets to Hawaii or 1 First Class Ticket to Central America
75,000 miles: 3 Domestic Tickets or 1 Business Class Ticket to Europe
150,000 miles: 6 Domestic Tickets or 1 First Class Ticket to Europe or Asia
And so on. Really, it's up to you, and even if you just use your miles for a simple cross-country flight, that's great too. Here's the final link to the order page. See you next in an airport somewhere?
---